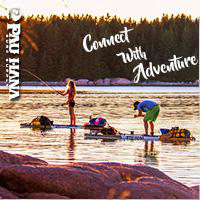 Shop our in-stock selection of Pau Hana stand up paddleboards, and coming attractions.
Pau Hana is a Hawaiian phrase that means the "Time after work" and it's all about the spirit of play. The water calls to us and we're mesmerized by its beauty, power, and tranquility. Everyone at Pau Hana lives the SUP lifestyle. They are fun-loving, adventure-seeking, paddle surfers, artists, yogis, creators, fisherman, athletes and travelers captivated by water. Pau Hana is dedicated to the craft, to the sport, serving their customers with aloha and the stoke that being on the water brings to them.
Pau Hana Surf Supply is a minority-owned business founded in 2006 in Santa Clarita, CA by Asian Pacific Islander Todd Caranto (Filipino American). "Pau Hana Time" encapsulates the spirit of play and good times with friends and family. To that end, Pau Hana Surf Supply is a design and manufacturing company that builds equipment and gear to share their stoke of "Pau Hana Time" around the world by providing innovative new designs and technology to the outdoor industry.